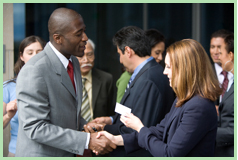 Referral Network
We pride ourselves on our genuine care for both job seekers and employers, and would like to extend our gratitude to our referral network. Over the years, we have had the opportunity to both work with, and recruit some exceptional people through our referral network.
With only six degrees of separation in the world and the technology to connect to a global network, you could earn yourself great rewards for each recruitment job that you refer to us, provided that we successfully fill the vacancy. It's our way of saying, thank you!
You will receive a $250.00 gift voucher for a permanent assignment and $150.00 gift voucher for a temporary assignment (temporary assignment term must be for a minimum of four (4) weeks at fulltime hours / a minimum of 140 hours).
To apply please complete the form below.
Recruit Safe only works with, potential employers who are reputable and diligent in complying with appropriate employment legislation. In addition, we will only put forward candidates whom we consider to be suitable for the role. The candidates' skills, experience and qualifications must match those of the vacancy. Moreover, the candidates' work ethic and employment values must mirror those of the potential employer and thus, the hiring organisation.
We will provide you with feedback and advise if we are successful in filling the job vacancy.